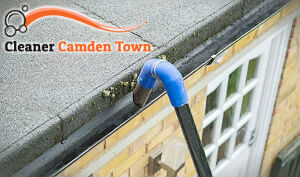 If you need professional cleaning and removing of the blockages from the gutters in your property, use our services. We carry out effective and reliable gutter cleaning which can be used by the residents living in Camden Town and nearby.
Our gardeners are supplied with high-grade tools and equipment for cleaning and reaching high located downpipes, fascias and soffits. Our staff's work is professional, effective and ensures proper functioning of the gutter components which won't get filled with wastes or get blocked.
It is recommended to clean the gutters in every building at least once per year.
Comprehensive Gutter Cleaning Services NW1
Our company can offer you timely and thorough removal of the blockages, leaves, wastes and dirt which get trapped in downpipes. We work in accordance with the health and safety regulations and our employees are fully vetted. The advantages of using our services are:
The gardeners who do the work are qualified and skilled
We provide and bring the equipment for cleaning
Our staff use tried-and-tested dry and wet vacuum cleaning equipment specially designed for gutters
We work seven days in the week
Our gardeners are experts in unclogging and ensuring the functional condition of downpipes, soffits and fascias
If you need one-time implemented hoovering and unclogging of downpipes and other gutter components of any building, get in touch with us. Our technicians are supplied with high-grade dry and wet vacuum cleaners, telescopic poles which are extendible and CCTV cameras.
"Last time I tried to clean my gutters on my own, I nearly fell to my death. So, I'm very, very happy I managed to find a gutter cleaning company I can actually trust to get the job done properly. Moreover, their cutting-edge equipment proved to be extremely efficient! – Claus"
Cheap Gutter Cleaning in Camden Town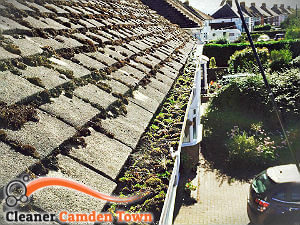 They ensure monitoring of the cleaning process, taking of before and after pictures, effective hoovering and unblocking of downpipes and fascias. Use the services of our professionals to get excellent gutter cleaning in or near Camden Town, NW1 and you will have long time and well functioning drainage systems.
Being exposed to all kinds of severe conditions, leaf fall, rains and others, soffits, fascias and downpipes get clogged and dirty. It is necessary to clean them once or a few times each year as well as whenever they become clogged and stop the rainwater creating leaks.
Our company offers some of the most effective and reliable gutter cleaning services in NW1 and nearby. Use our call centre, online chat or e-mail to book the service and receive a free quote responding to your needs.
We can assure you that you will be pleased with our gardeners' work which doesn't require entering in the building at all.